Wyoming's free public records contain vital information that family, friends, or employees can use. By understanding how to access public records and what is legally accessible, individuals can use the quickest pathways to find people's public information online for free.
Our goal is to provide a comprehensive resource that helps searchers use the right local and state resources to find Wyoming public records all in one place at no cost.
Public Record Laws in Wyoming
Wyoming abides by the Wyoming Public Records Act (Wyoming Statutes § 16-4-201 through 204), a series of laws guaranteeing the public access to check public records maintained and held by governing bodies at all levels (including county and state levels). Wyoming public records include documents created or received by governmental agencies in the manner of public business.1
However, there are specific stipulations on who can access what information (ex: varies per state, some state records are available for anyone to search vs. others may need prior consent, some information is only accessible by government or professional agencies, etc.).
In Wyoming, anyone can request Wyoming public records, and it does not require a statement of purpose. Furthermore, there are no restrictions on the use of public records. However, some information is exempt, such as pre-specified investigation records, testing materials, research projects, labor negotiations, school board disciplinary records, and medical records of public hospitals.
Some sites offer a search service, with organizations offering paid or free searches. In this instance, paid searches are almost always the best option for those who want reliable and trustworthy sources. Free searches can be quick and easy, but they may not provide accurate information.
Individuals who want to find Wyoming public records must know where to find the specific information and documents regarding the subject, identify the corresponding government agency, determine the jurisdiction, narrow down the type of record custodian, and identify other markers, such as the type of record required (public criminal records, court records, vital records, inmate records, etc.).
Criminal Records: Wyoming (WY)
Criminal records in Wyoming provide a detailed overview of the person's criminal history, including information from the local courts, correctional facility and state jail, and other state departments. The information contained in the criminal records is as follows:
Sex
Physical descriptors
Subject's name or aliases
Charges
Offense classification
Trial court
Disposition for all charges
Are WY Criminal Records Open to the Public?
Wyoming's criminal records are available for public consumption thanks to the Wyoming Public Records Act. Therefore, most criminal documents and records are available to access through the Wyoming Division of Criminal Investigation.
If a record can't be found through public information, third-party search services may provide the information they seek. The benefits of using a third-party site are the records have no local search constraints, they contain information from government repositories and the internet, they contain information on a person in one place, and they can be easier to obtain than other sources.
Independent, third-party search services are usable for on-demand access to criminal records. Free public criminal record checks are possible too. However, individuals should keep in mind the information obtained is typically limited or incomplete.
How Can I & See if Someone Has a Criminal History in Wyoming?
Individuals can check if someone has a criminal record in Wyoming by performing either online or offline searches. The online search involves utilizing the Division of Criminal Investigation (DCI) online directory, whereas the offline search involves visiting the clerk of the court's office in person to obtain the court records.
Online
Individuals can determine if a person has criminal records in Wyoming by performing a fingerprint-based criminal record search through their organization, such as their school, child care services, or other company. An employer can conduct a fingerprint-based background check for just $15 through the DCI.2
Visit the DCI website
Click on 'Criminal Justice Information Services (CJIS)'
Click on 'Background Checks / Applicant Tracking System'
Click on 'Instructions' to proceed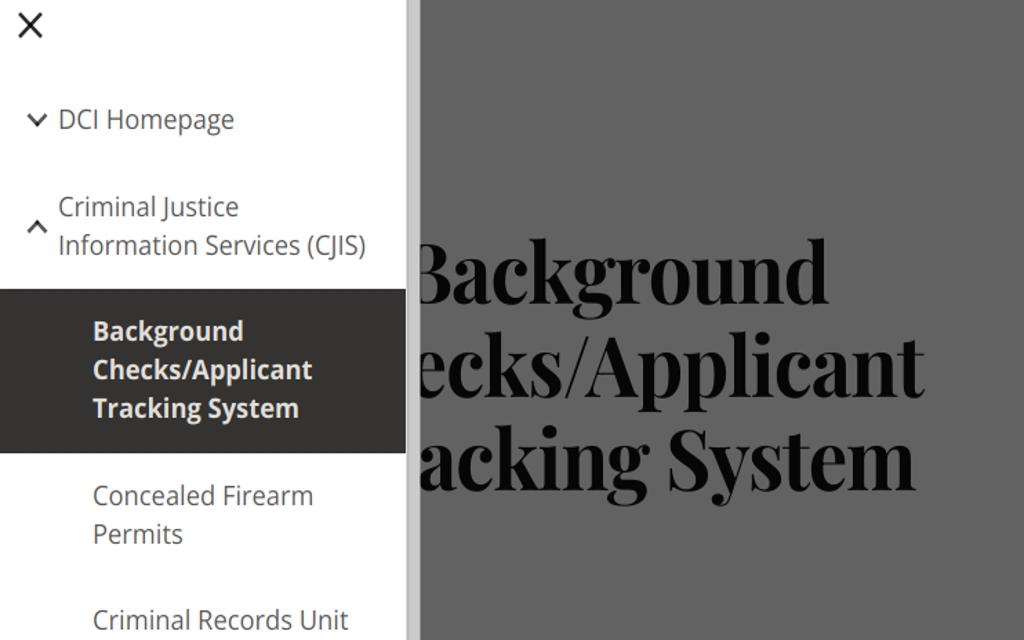 If an individual wants to request their own criminal record for personal use through online methods, they can use the federal FBI system through the CJIS Identity History Summary Checks website. The FBI does not permit DCI to conduct a criminal record search for individual use (non-professional use).
Offline
However, suppose an individual wish to conduct a criminal history check for personal reasons as a singular searcher. In that case, they can visit their local district court or contact the clerk of courts. The clerk of courts will have on-demand court records accessible through their website or in-person documents. The searcher will have to pay a fee to access the court records.
Use a search engine and enter 'Wyoming (District Name) Court Clerk' ex: Laramie County
Click on the link
Click on 'County Clerk'
Click on 'Records Center'
Click on 'Clerk of Courts' for Civil or Criminal Court Cases to find contact information3
Or, users can start on the Court's website by doing the following:
Visit the Wyoming Judicial Branch website
Click on District Courts
View the District Court Locations
Click on the corresponding county (ex: Laramie County)
View the Contact Information to email or call the Clerk of District Court
Ex: Diane Sanchez, Clerk of District CourtVoice: 307.633.4270
For more criminal record custodians or other agencies to check with, take a look at our Wyoming criminal and arrest records guide which also provides county arrest logs to assist with finding people who were recently incarcerated.
Can Anybody See a Juvenile's Criminal History in Wyoming?
Juvenile records are not Wyoming public records and cannot be viewed by the general public.4
The only exceptions are cases involving murder or sexual offenses.
Juvenile criminal records are records of past criminal behavior of youths in Wyoming and their consequences in juvenile court. Residents below the age of 18 are not adults in a court law, meaning their sentencing would be carried out in juvenile court, and detention would occur in a juvenile detention center.
Juvenile records include arrests, adjudications, and charges for the youth in question. When the juvenile turns 18 years old, this means their record is expunged, unless the condition was a misdemeanor or felony as an adult.
How to View Active Arrest & Bench Warrants Using Free Wyoming Warrant Search
An individual can find out if someone was arrested or is in jail by using the state's resources.
An arrest warrant is an authority given to law enforcement by a judge that allows a police officer to take a person into custody or detain an individual. The arrest warrant typically contains the person's name, physical description, date of birth, and other information that can aid in the identification process.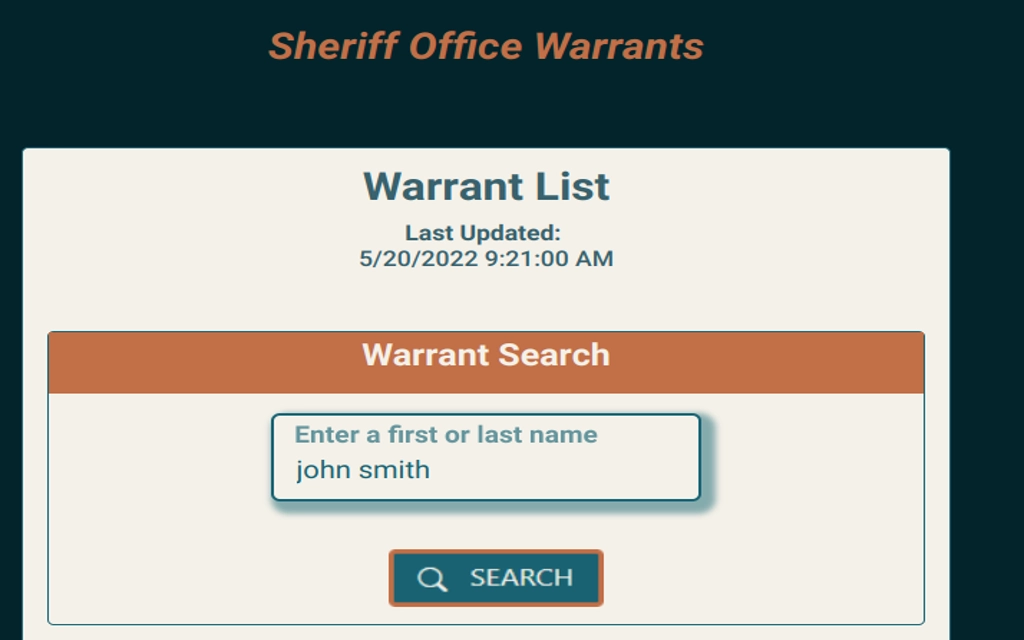 Wyoming does not have a database or depository where the general public can look for an active arrest or warrant search. However, local governments at the county level allow users to perform a warrant out a search through their services.
For example, Natrona County in Wyoming allows users to search sheriff's office warrants.
Visit the Natrona County website
Click on 'Departments' and then click on 'Sheriff'
Click on 'Warrant Search'
Enter the first and last name for the Warrant Search or browse the list of all warrants
How to Check Nearby Neighborhoods for Sexual Predators (WY)
Wyoming has a sex offender registry containing information available for public consumption regarding sex offenders in the state. The Megan Law requires every sex offender to register their data and personal information to notify individuals in the community, such as the general public and neighbors in the area.5
Furthermore, certain counties also contain updated lists of sex offenders in the county. For example, Natrona County has an updated list of weekly changes to the Sex Offenders list in the county displayed on their website.
The state also requires sex offenders to register for public safety purposes and to prevent repeat offenses. The information required by the state includes the following:
Names of the offender
Age
Description
Location
Description of sexual offense
Date of conviction
Wyoming Background Checks: The Ins & Outs
Individuals should look into the basic ins and outs of Wyoming background checks to see how to perform different checks at the local, state, and federal levels.
Criminal Record Check (State Level)
One of the most common types of background checks in Wyoming is the criminal record check. In Wyoming, criminal history is maintained forever unless the records are expunged or there are sealed court records.
Individuals can find a criminal record at the state level by visiting the Wyoming Division of Criminal Investigation under the Attorney General. The information on the Wyoming criminal record includes the following:
Date of birth
Social security number
Criminal charges (if the person has been charged with a crime)
Drivers license number and driving information
Mugshot
Fingerprints
Addresses
Arrest records
Current and past warrants
Felonies
A criminal background check typically takes between 1-3 business days but can be faster depending on the database being used.6
Employment Background Check (Fingerprint-Based)
The next type of background check is an employment background check. This differs from other checks because a signed consent form from the subject in question must be obtained before doing the check. Background checks are processed through fingerprinting and run through the Wyoming DCI and the federal system.
An employment background check typically takes between 2-5 business days to complete.7
Wyoming Court Records (Explained)
Wyoming court records are available for public consumption, including court dockets, case information, and summary information. A docket provides the searcher with evidence regarding the specific case in question. Individuals can request this specific information by contacting the clerk of the Court.
However, Wyoming Courts only contain information for the Appeals Court. Other courts, such as District or Circuit Courts, contain other information that must be accessed via email or in person from the local court.8
Wyoming contains different court systems for different cases:
Supreme Court — The Supreme Court is the highest level in the state of Wyoming and deals with appeals from district courts.
District Court — District judges deal with felony cases, civil cases, and juvenile matters.
Circuit Court — There are 23 circuit courts in Wyoming. This court deals with cases regarding family violence, forcible entry, stalking, misdemeanors, and ordinance violations.
Municipal Court — Municipal courts handle ordinance violations but do not have any civil jurisdiction.
How Do I View Someone's Court Records & Court Cases in Wyoming?
An individual can use the Supreme  Court Docket tool to look up non-confidential cases dealt with in the Wyoming Supreme court.
Furthermore, individuals can visit a specific county courthouse and use the public terminals to find court case information.
Individuals who wish to obtain court records need to provide the case number to help the custodian track and provide the record. The majority of courthouses in Wyoming help the searcher find the case number for a small fee.
Check to See Who Has Filed Bankruptcy in Wyoming
Most states allow bankruptcy records to be requested through the US PACER online system, clerk or divisional offices in-person, or through the Archives website regarding closed bankruptcy cases.
Wyoming bankruptcy records contain the following information:
Debtor's name
Debtor's contact details
Creditors and contact details
Financial statements
Case number
Disposition
Discharge date
Individuals can get Wyoming bankruptcy records through various methods.
Courthouse — Individuals can visit their local court to gain access to bankruptcy records through public access terminals, with a fee of $0.10 for printing pages.
Clerk office — Individuals can request bankruptcy records through their local Court Clerk's office, with the fee costing $0.50 per page.
Online — Individuals can access bankruptcy records online through the PACER system (Public Access to Court Electronic Records) for a fee of $0.10 per searched page.
Phone — The last way to find bankruptcy records is to use the Voice Case Information System by dialing (866)222-8029. Individuals must have the case number and debtor's name to access the records.
Locating Inmates & Obtaining Inmate Records in Wyoming
Employers may need to find inmate records for a potential hire or an open job position. Or, a person may require inmate records to see if a person they know is or was in jail in the past.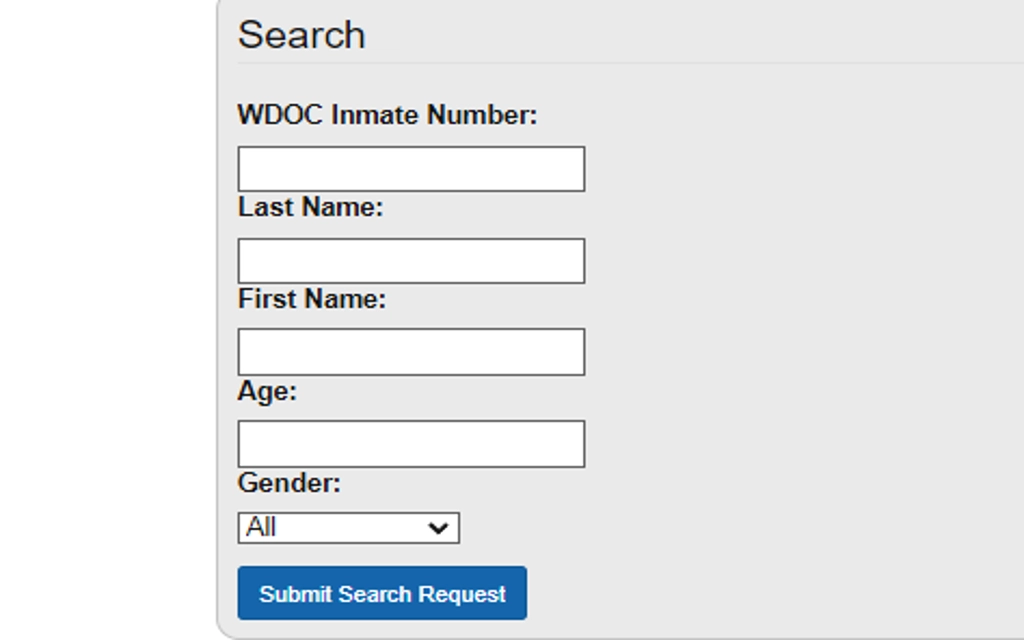 Individuals in Wyoming can use the Offender Locator on the Department of Corrections website to find an inmate in the prison system. The individual must input the inmate's number, last name, first name, age, and gender. There are no federal prisons within the state, but individuals can use the Bureau of Prisons to find federal prison locations.
Inmate Record Check (State Level)
This state record check for inmates at the state level in Wyoming contains information like:
Name and aliases
Date of birth
Height and weight
Booking photo
Location
Sentencing
Department of Corrections ID
How Do I Find Someone in a Wyoming Jail?
Individuals who need to find someone in a Wyoming jail must narrow down the state prisons to find the appropriate location. Once they find the correct location, they can use the inmate locator tool on the county website or sheriff's office website to find the person in question and learn how to get jail paperwork (ex: inmate release date).9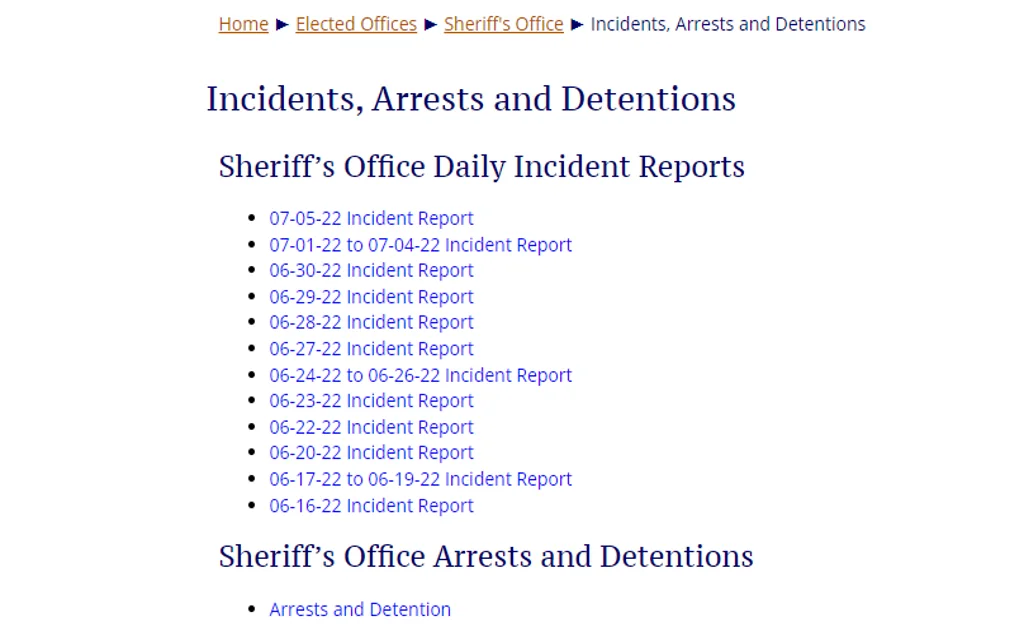 Individuals can find inmates in county jails by county sheriff's office sites or calling them. For example, in Sheridan County, Wyoming, individuals can send an email or call 307-672-3455. Individuals can also look up arrests and detentions by clicking on the link.
The other way individuals can find inmates is to use city/regional jails through city sites or local police department sites.
How Do I Find Mugshots of Recent Arrests in Wyoming?
Arrest records are considered public records and can be acquired from government agencies at the state, county, and local levels. Specific counties in Wyoming utilize different methods that let the public find recent arrests and view mugshots. For example, Laramie County posts mugshots and recent arrests on their sheriff's office Facebook page.10
Find Wyoming Prisoners (State Penitentiaries)
Individuals can use the WDOC to find the records of all inmates and offenders currently in prison, on probation, or on parole. The public can use the inmate lookup tool to find an inmate by their name or number. This way, individuals can find inmate release dates, see if they are out for parole, visit an inmate, or send money to inmates.
A Look at Vital Records in Wyoming: Free Divorce Records
Vital records typically contain marriage, divorce certificates, death, and birth certificates. Vital records are kept by the Wyoming Department of Health through the Vital Statistics Services. These services include:
File birth, death, fetal death, marriage, and divorce certificates
Issue certified copies of the above certificates
File delayed certificates
Make corrections or amendments
File adoption records
Do Private Citizens Have Access to Vital Records in Wyoming (Free Marriage Records)?
Individuals in Wyoming can access vital records by using the Vital Statistics Services. It is possible to request a certified copy of a certificate for a birth certificate, death certificate, marriage certificate, or divorce certificate. However, there are stipulations as to who can request certified copies of vital records. For example, certified copies of a birth certificate can only be requested by the parent on the certificate, the lawyer representing the parents), or the legal guardian(s).
What's the Easiest Way to See if Someone is Married or Divorced in WY?
Marriage license and divorce records are Wyoming public records and can be accessed by anyone, as long as they are not requesting certified copies.11
Marriage and public divorce records are typically held at a local county clerk's office where the event took place or through the Vital Records at the state level. To put the number of divorces into context, the following image, based on data from the Census Bureau, represents the percentage of divorced individuals in Wyoming counties.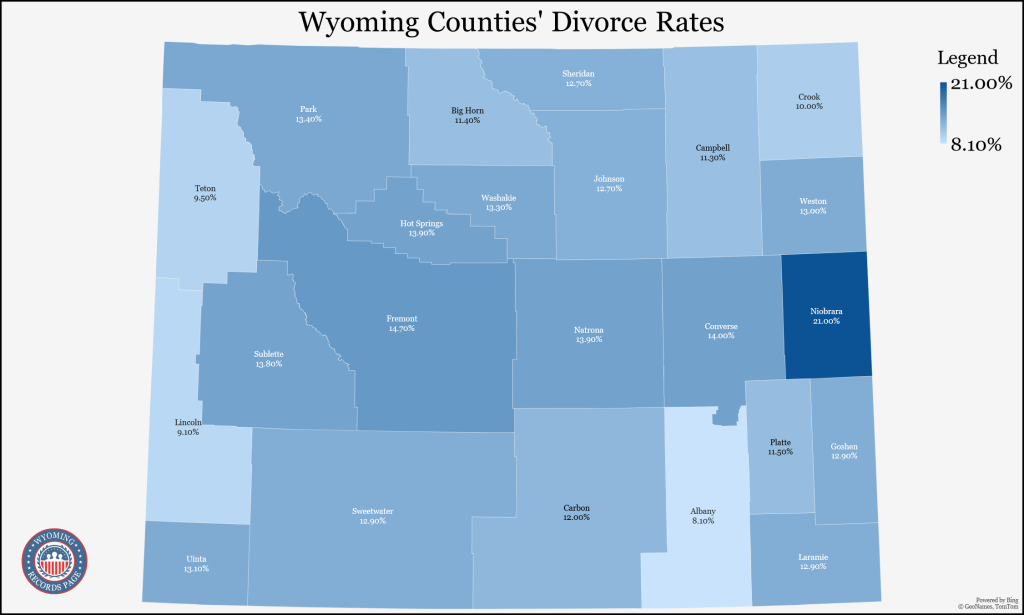 The quickest way to find out if someone is married or divorced in Wyoming is to contact the specific county clerk's office to find the file. The court clerk would be able to tell the individual if the case was transferred to the Wyoming State Archives.12
How to Request Replacements Death & Birth Certificates in Wyoming
Individuals can request a birth certificate by filling out a birth application. The individual must meet the criteria before submitting the application (over 18 years of age, parent named on the certificate, lawyer of the parent(s), or legal guardian with Court Ordered Guardianship papers).
Furthermore, the individual must be able to provide the following information on the application:
Full name
Date of birth
City or county of birth
Full names of both parents
Signature of parent
Mailing address
Identification (driver's license, state ID card, or passport)
Individuals must submit the fee through money order or bank-personalized check payable to Vital Statistics Services and send it to:
Vital Statistics Services
2300 Capitol Avenue
Hathaway Building
Cheyenne, WY 82002
Furthermore, individuals can request a certificate of death in Wyoming by being an authorized representative such as:
Immediately family members of the deceased
A lawyer representing the family
Bank or executors of the estate
Other family members or attorneys who deal with legal matters (assets, probate, real estate, etc.)
The above personnel requesting the death certificate must provide the following information on the death application:
Full name
Date of death
City or county of death
Relationship to deceased
The purpose of the copy
Signature of the person making the request
Mailing address
Identification
The death application must be sent with the money order or personalized bank check to:
Vital Statistics Services
2300 Capitol Avenue
Hathaway Building
Cheyenne, WY 82002
1Wyoming FOIA Laws – National Freedom of Information Coalition. (n.d.). National Freedom of Information Coalition. Retrieved May 27, 2022, from <https://www.nfoic.org/wyoming-foia-laws/>
2Wyoming Criminal Records. (n.d.). Criminal Records. Retrieved May 28, 2022, from <https://criminal.com/records/wyoming/>
3Laramie County Clerk Records Center. (n.d.). Laramie County Clerk. Retrieved May 28, 2022, from <https://www.laramiecountyclerk.com/recordsCenter.aspx>
4I have a juvenile criminal record. Which offenses can be sealed? – Legal Aid Society of Cleveland. (n.d.). Legal Aid Society of Cleveland. Retrieved May 28, 2022, from <https://lasclev.org/i-have-a-juvenile-criminal-record-which-offenses-can-be-sealed/>
5Takakuwa, A. (n.d.). Wyoming | klaaskids.org. KlaasKids Foundation. Retrieved May 28, 2022, from <https://klaaskids.org/megans-law/wyoming-2/>
6Korolevich, S. (2021, February 10). How Long Does A Background Check Take? GoodHire. Retrieved May 28, 2022, from <https://www.goodhire.com/blog/how-long-do-background-checks-take/>
7How Long Do Pre-Employment Background Checks Take? (2022, May 25). Indeed. Retrieved May 28, 2022, from <https://www.indeed.com/career-advice/career-development/how-long-do-a-background-check-take-for-a-job>
8Wright, S. (n.d.). Background Check in Wyoming – Free Public and Criminal Records. Background checks. Retrieved May 28, 2022, from <https://freebackgroundchecks.com/states/wyoming/>
9Wyoming County Jail Inmate Search | Free Inmate Lookup. (n.d.). Retrieved May 28, 2022, from <https://gadsdensheriff.org/wyoming/county-jail/>
10Laramie County Police Department.  (n.d.). Facebook. Retrieved May 28, 2022, from <https://www.facebook.com/profile.php?id=100064778796875&sk=photos>
11Public Records. Public Libraries. (n.d.). Retrieved May 28, 2022, from <https://publiclibraries.com/public-records/>
12Wyoming vital Records: Marriage. (n.d.). GoWYLD. Retrieved May 28, 2022, from <https://gowyld.libguides.com/c.php?g=737612&p=5272948>
13Wyoming DCI Background Checks. Accessed 5 May 2023. <https://wyomingdci.wyo.gov/criminal-justice-information-services-cjis/background-checksapplicant-tracking-system>
14Wyoming Judicial Branch. Accessed 5 May 2023. <https://www.courts.state.wy.us/district-courts/>
15Natrona County Sheriff Office. Accessed 5 May 2023. <https://warrants.natronacounty-wy.gov/>
16Wyoming Offender Locator. Accessed 5 May 2023. <http://wdoc-loc.wyo.gov/>
17Sheridan County. Accessed 5 May 2023. <https://www.sheridancounty.com/elected-offices/sheriffs-office/incidents-arrests-detentions/>