Lookup Wyoming criminal records and arrests for free and through via official channels to learn about someone's past or current situation.
While Wyoming arrest records and criminal proceedings are considered public records, it can be challenging to find this information if you don't know what type or records are available or where to look.
This guide empowers citizens with everything necessary to search state, local, and municipal resources for arrests, mugshots, criminal history and background check reports, probation and parole details, warrant status, and prisoner records quickly and efficiently.
Can the Public View Arrest Records & Criminal Records in Wyoming?
An arrest record (also known as an "arrest report") is a written report which documents the details of an arrest, while a criminal record or "rap sheet" can provide insight into a subject's criminal history.
Thankfully, in Wyoming, criminal records and arrest records are both open to public review by law. On top of this, several other types of information available to the public and our Wyoming public records lookup guide details how to find information ranging from court records, marital status and more.
The federal Freedom of Information Act (FOIA) grants members of the public the right to request or access the records of government agencies.1 The Wyoming Public Records Act is essentially the state's set of laws mirroring the federal FOIA and guaranteeing accessibility to public records in Wyoming.2
Reviewing these records can provide crucial details to searchers and allow them to find out what someone was arrested for, verify where the subject is being detained, and view mugshots if available.
However, each type of record is hosted by different agencies or courts; the processes for obtaining them and the associated fees (if any) can also differ, but the following guide can simplify the process and outline the costs of each record type.
Some restrictions do apply to public records; for example, the public is prohibited from viewing any juvenile records or any adult records that have been expunged (legally erased or destroyed). Further insight into these stipulations, custodians, and the process of tracking down each type of record is available in our
What Is Included in Criminal Records vs Arrest Records in Wyoming?
Arrest records and criminal records include similar information, but criminal records are far more comprehensive and all encompassing as they detail the subject's entire criminal history information; arrest records can help searchers find out someone's charges in jail, but are limited to a single incident or arrest.
In Wyoming, arrest records typically include the following information:
Age
Arresting Agency
Arrest Details (Date & Location)
Booking Date
Charge(s)
Full Name
Mugshot
Physical Descriptors (Height, Weight, Build, Hair & Eye Color)
Race/Ethnicity
Sex
Criminal records in Wyoming tend to list the individual's:
Age
Conviction(s)
Current Facility
Full Name
Jurisdiction
Known Aliases
Mugshot
Offense Classifications & Descriptions
Prior Arrests & Detainments
Physical Descriptors (Height, Weight, Build, Hair & Eye Color)
Physical Identifiers (Tattoos, Scars)
Race/Ethnicity
Release Date
Sentencing Details
Sex
How To Find Recent Arrests & Determine Why Someone Is in a Wyoming Jail for Free
There are several ways to find out if someone was arrested and view their arrest records in Wyoming, depending on the agency that made the arrest and where the arrestee was incarcerated.
Searchers can benefit from knowing as many details about the subject as possible–including their first and last name and approximately where and when they were arrested–as this will help vastly narrow down the search.
Wyoming has both city and county jails, so this guide will assist searchers trying to find recent arrests in either type of facility. Some jails will even include an inmate search tool, roster, or booking log of daily arrests along with the inmate's mugshot and arrest details – all of which can be found in the county inmate roster table below.
Search Wyoming Arrest Records Through County Law Enforcement (County Sheriff's Offices)
Individuals seeking Wyoming arrest records can perform searches at the county level by checking the relevant county jail's list or database of current arrests. Some larger counties have inmate rosters or search tools that can be accessed online for convenience.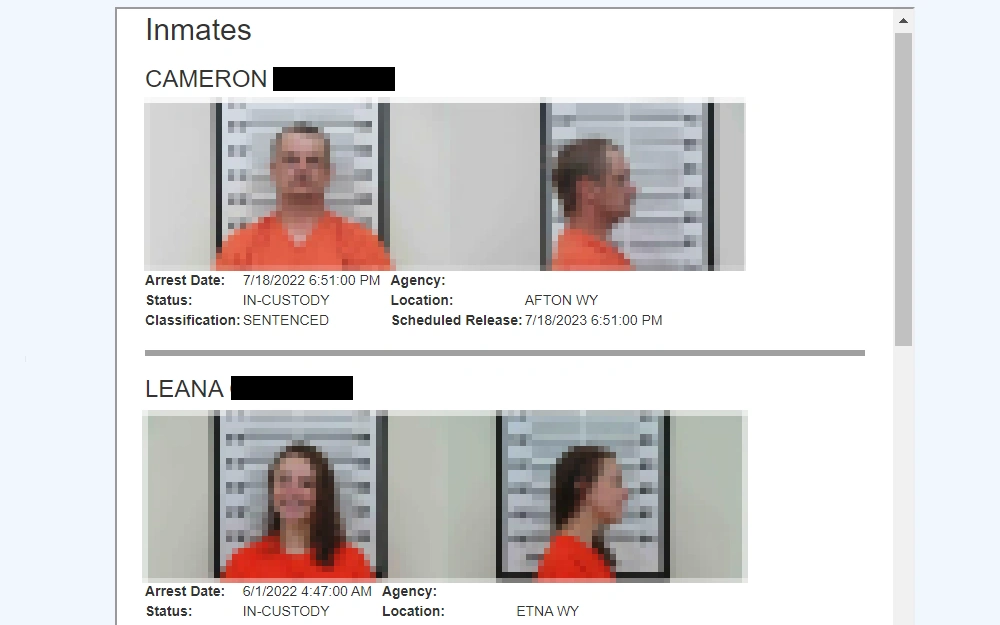 Each county's online inmate roster and mugshot database is linked below, if available, along with contact information for both the county jail and sheriff's department:
* Indicates that this county does not offer an online inmate roster or search tool; in such cases, the county sheriff office webpage is linked instead 
If an online search portal is not available, police departments, sheriff's offices, or county jails can be contacted by phone or visited in person during business hours to find out if someone is in jail, make arrest report inquiries, or request copies of records.
Each agency will likely charge a nominal fee, but the appropriate office should be contacted to ask about the exact cost per copy. For example, Sweetwater County offers arrest records to the public for a $5 non-refundable fee, which can be requested in person or by mail and can be delivered by mail, electronically, or picked up in person.3
A licensed bail bondsman could also assist with verifying whether or not someone is incarcerated and can even help with navigating the legal system and posting bail on behalf of an inmate.
How To Contact Arrestees or Jail Inmates & Post Bail (Wyoming)
Visitation and communication policies vary by facility as each jail has the authority to set their own rules and hours, so it is always best to check with the appropriate jail (most of which can be contacted using the table above) about which days and times visitors are welcome.
Before visiting, friends or family members might also want to check on what they should bring to visitation (i.e. proof of identification, a completed visitor application, etc.).
Inmates in Wyoming jails often have access to phone calls and postal mail, but some jails offer emailing and video calling as well. Many county jails such as the Big Horn County Jail use third party calling services such as Securus and only allow for inmate-placed outbound calls or pre-paid calling.4,5
To post bail for someone who's in jail, individuals may benefit from reaching out to the facility where the inmate is currently being held to ask about the bail process as well as the amount due.
Some jails take bail payments directly, while other counties allow for bail to be posted at the sheriff's office or require that the court be paid instead so the safest policy is to inquire with the appropriate agency.
"Cash bail" refers to paying the full amount all at once, but those who cannot afford to post cash bail might decide to use a bail bondsman. A bail bondsman will post bail on behalf of an inmate and usually charges an upfront, non-refundable fee equal to 10% of the total bail amount. In cases of unusually high bail, the bondsman might request a higher upfront payment.
How To Lookup Wyoming Criminal Records via Official Channels or Agencies
Criminal records are usually accessed via the court system or another state agency that serves as a public records repository.
In Wyoming, both of these options are available to members of the public who wish to obtain copies of such records. This guide will describe the process of how to access records through each record custodian and the costs and intricacies of each.
Background check services can provide further insight into a subject's criminal history as well, which will be explained in depth further below.
Search for Criminal Records Through the District Clerk of Courts of Wyoming
In Wyoming, one reliable way to check if someone has a criminal record or obtain copies is through the District Clerk of Court.
Criminal cases are heard by the Wyoming District Courts and criminal records are managed, filed, and dispersed by the clerk of the applicable court that heard the case.6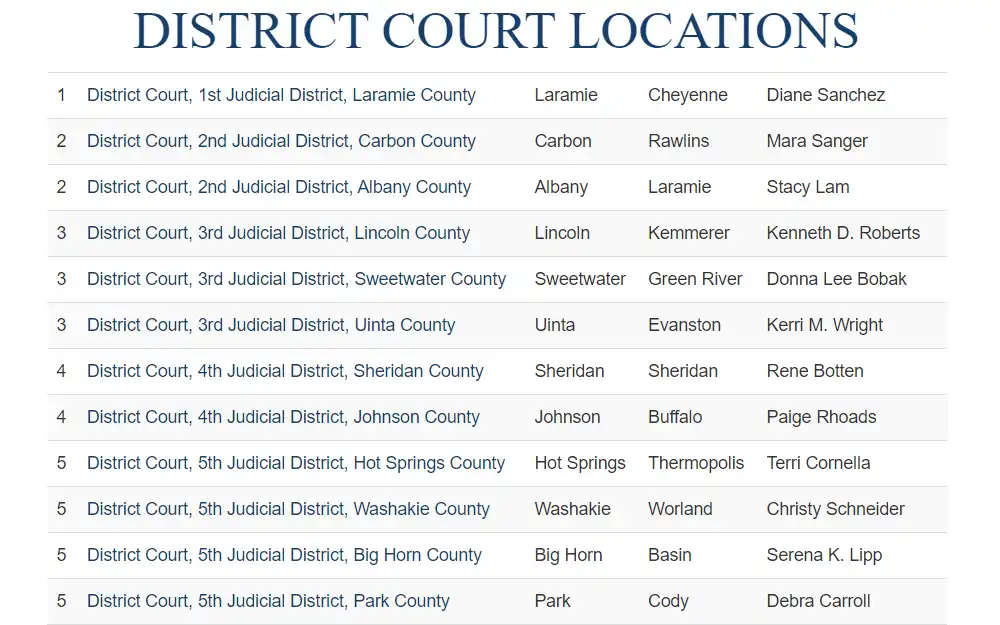 Wyoming criminal records accessed through the clerk of court will likely come at a nominal fee. Contact information for each District Clerk of Court can be found in the table below with their webpage, addresses and phone numbers:
District Clerk of Court for Criminal Record Searches
Courthouse Address
Phone Number
Albany County
525 Grand Avenue
Laramie, WY 82070
307-721-2541
Big Horn County
420 West C Street
Basin, WY 82410
307-568-2381
Campbell County
500 S. Gillette Avenue
Gillette, WY 82716
307-682-3424
Carbon County.
812 E. Murray Street
Rawlins, WY 82301
307-328-2628
Converse County
107 N 5th Street
Douglas, WY 82633
307-358-3165
Crook County.
309 Cleveland Street
Sundance, WY 82729
307-283-2523
Fremont County
450 N 2nd Street
Lander, WY 82520
307-332-1134
Goshen County
2125 East A Street
Torrington, WY 82240
307-532-2155
Hot Springs County
415 Arapahoe Street
Thermopolis, WY 82443
307-864-3323
Johnson County
620 W. Fetterman Street
Buffalo, WY 82834
307-684-7271
Laramie County
309 W. 20th Street
Cheyenne, WY 82001
307-633-4270
Lincoln County
925 Sage Avenue
Kemmerer, WY  83101
307-877-9056
Natrona County
115 N Center Street
Casper, WY 82601
307-235-9493
Niobrara County
424 South Elm Street
Lusk, WY 82225
307-334-2736
Park County.
1002 Sheridan Avenue
Cody, WY 82414
307-527-8500
Platte County
2020 South Street
Wheatland, Wyoming 82201
307-322-3857
Sheridan County
224 S. Main Street
Sheridan, WY 82801
307-674-2960
Sublette County
21 S Tyler Avenue
Pinedale, WY 82941
307-367-4376
Sweetwater County.
80 W. Flaming Gorge Way
Green River, WY 82935
307-872-3820
Teton County
180 S. King Street
Jackson, WY 83001
307-733-2533
Uinta County.
225 9th Street
Evanston WY  82930
307-783-0456
Washakie County
1001 Big Horn Avenue
Worland, WY 82401
307-347-3131
Weston County
1 W. Main Street
Newcastle, WY  82701
307-746-4778
Access Criminal Records Through the Wyoming Division of Criminal Investigation (DCI)
Criminal records may also be requested through the Wyoming Division of Criminal Investigation (DCI) of the State of Wyoming Attorney General's Office.7,8
All local law enforcement agencies, district courts, juvenile correctional facilities, district attorneys, the WDOC, and probation and parole offices must file their criminal history information and arrests with the DCI within 72 hours of each incident or event. Arrests that are not submitted to the DCI will not be shown on the subject's DCI criminal record even if court documents show that the arrest occurred.
Wyoming criminal records and reports dispersed by the DCI are statewide checks, but will include the Western Identification Network (WIN) criminal history check as well which includes other states–namely Alaska, Idaho, Montana, Nevada, Oregon, Utah, and Washington.9
The DCI will only process criminal record checks that are required by law (such as for employment or licensing) when requested this way, so individuals who want to conduct personal record checks can follow the instructions for non-criminal justice checks under the heading background checks section below instead or request an official criminal history check directly through the Federal Bureau of Investigations (FBI).10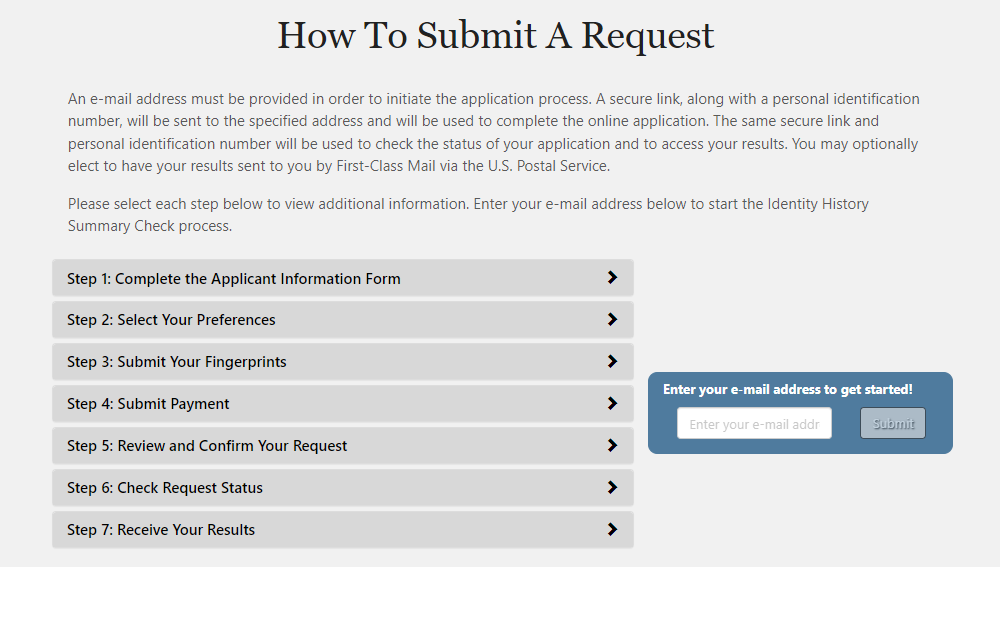 For authorized criminal record requests via the DCI, individuals will pay $15 for a statewide check (including a WIN check) or an additional $24 for an FBI fingerprint verified criminal history check for a total of $39.
The DCI provides fingerprinting services at their headquarters which are located at 208 S. College Dr., Cheyenne, WY 82002.11 A fingerprinting service fee of $5 will be due at the time of fingerprinting, and appointments can be scheduled in advance by calling 307-777-7181.
Applicants may also be fingerprinted at any authorized law enforcement agency as long as the fingerprints are taken on an official blue FBI 8 x 8 fingerprint card. The applicant will be required to show a current government issued photo I.D. such as a state identification card, passport, or driver's license at the fingerprinting appointment.
Individuals can send their payment by cashier's check or money order made out to the Wyoming Division of Criminal Investigation or the Office of the Attorney General and sent to DCI's Applicant Tracking System (ATS) office at:
Wyoming Division of Criminal Investigation
Attn: ATS
208 S. College Drive
Cheyenne, WY 82002
Criminal record checks should be processed within 2 weeks, but backups may stretch the turnaround time to 6 weeks or so during busy periods.
Questions about fingerprinting can be directed to the Automated Biometric Identification System (ABIS)–the unit responsible for processing all fingerprint cards–at 307-777-6328, while inquiries about the general criminal record check process can be directed to the Applicant Tracking System (ATS) at 307-777-5368.
How To Obtain a Copy of Criminal Records in the State of Wyoming (WY)
Criminal records in Wyoming can be accessed and obtained through the clerks of the Wyoming District Courts by calling or visiting the relevant courthouse location.
A small fee is charged for copies, but the exact amount can vary between locations.
Wyoming criminal history information may also be obtained through the Wyoming State Attorney General's Division of Criminal Investigation (DCI) at a cost of $15 per statewide search (including the WIN system) or an additional $24 for FBI checks done via the DCI.
Applicants must bring a valid form of photo identification to be fingerprinted either at the DCI for a $5 fee or by authorized law enforcement agencies who set their own fingerprinting fees. All fingerprints must be taken on standard 8 x 8 FBI fingerprint cards and submitted to the DCI for processing. However, this option is only available to those who need a state mandated criminal history check.
Non-criminal justice background checks that include criminal history can be requested by any member of the public (even if not required for employment, licensing, etc.) by following the steps outlined under the "Overview of Wyoming Background Checks" heading below.
Lastly, third party people finder services can prove helpful and can often provide efficient results for a small price.
How To See If Someone Is on Probation or Parole in Wyoming
The inmate locator offered by the Wyoming Department of Corrections (WDOC) is a search tool which members of the public can use to search for both probationers and parolees under jurisdiction or supervision of the WDOC (by inmate number or at least the first two letters of their last name).12,13
The Wyoming Board of Parole holds the authority to grant or revoke parole for Wyoming inmates and sets parole conditions for offenders at the board's bi-monthly hearings, but they must first be deemed eligible by the WDOC.14 The Board makes decisions regarding eligible inmates from any of the WDOC's 5 state prisons and the 3 community corrections facilities that the WDOC manages.
The WDOC supervises offenders that have been granted parole (release from prison) by the Parole Board as well as those who have been released by the courts on probation (release from jail).
Though the WDOC gives information on current state facility inmates, parolees, and probationers, the database only lists individuals who are currently under WDOC jurisdiction or supervision. Therefore, offenders who are no longer on probation or parole–as well as inmates held in county jails–will not be shown in the search results.
To illustrate just how many people are on probation and parole, the following image shows the combined total of probationers and parolees in Wyoming, along with their ethnicities. Furthermore, these totals are also compared to the number of individuals on community supervision (including probation and parole) in other states across the United States.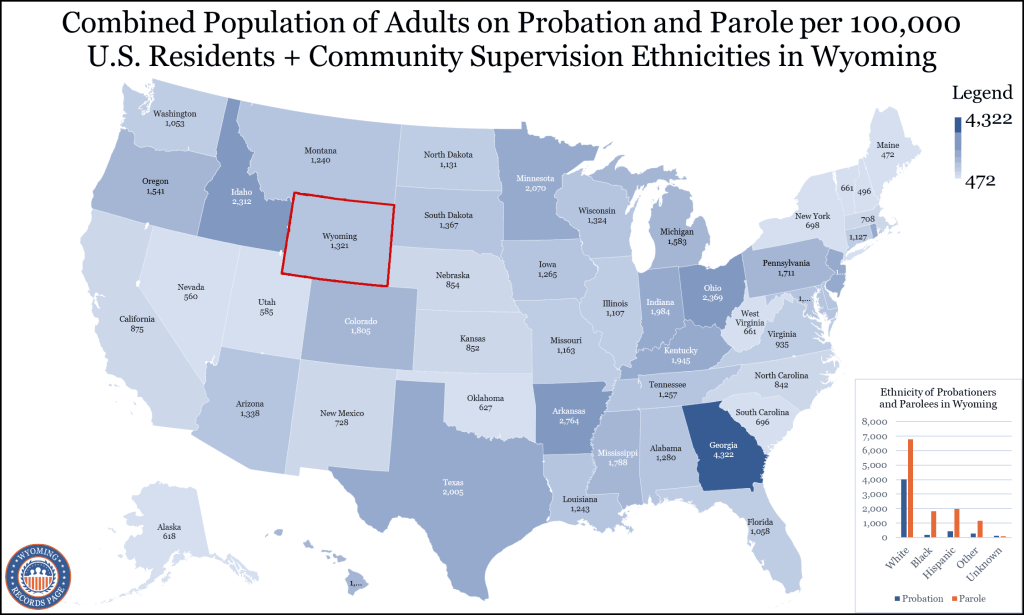 Concerned parties may also contact probation and pretrial service office locations, but the WDOC online parolee database is the most reliable and comprehensive search option as it also serves as a prisoner and probation search tool.15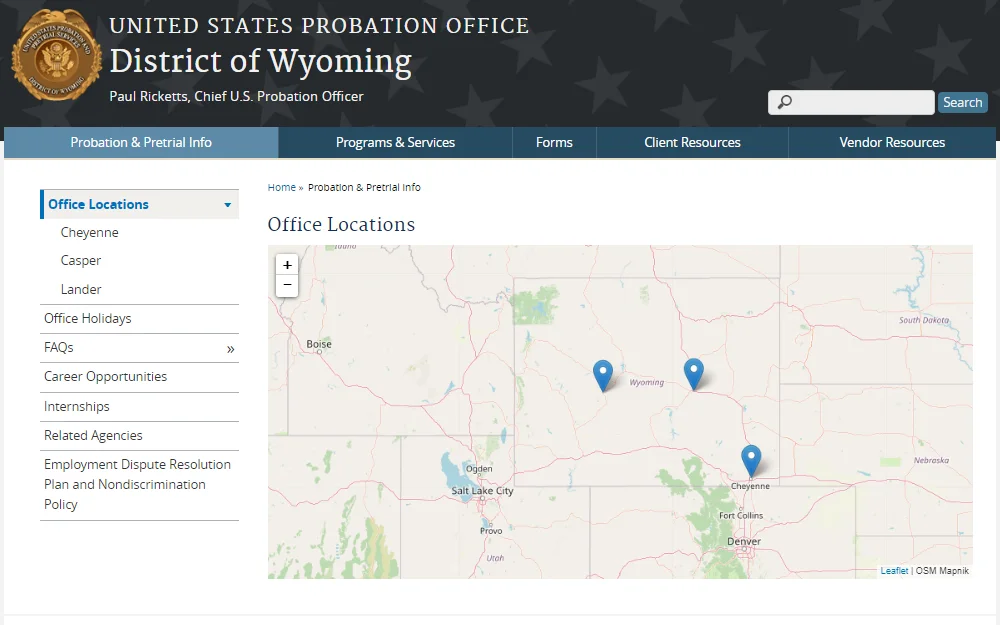 The BOP Inmate Locator offered by the Federal Bureau of Prisons (BOP) can be used to find parole information on subjects who have been held in federal prison.16,17 However, if an offender profile found through the inmate locator shows that the subject is on parole, this could simply signify that they were granted parole at some point and may not be current.
Learn How To Expunge a Criminal Record in Wyoming
Wyoming residents who have criminal records may be able to have their convictions expunged under certain circumstances, but this information will not be truly erased or destroyed and is still accessible for criminal justice services.
It will, however, be completely hidden from the public eye and is often worth pursuing.
An arrest that did not result in a conviction may be expunged after 180 days (6 months) as long as there are no additional criminal charges against the individual and there were no formal charges or convictions resulting from the initial arrest (or if all criminal proceedings were dismissed).
In 2021, the Wyoming House of Representatives voted to pass House Bill 0212 and reduce the waiting period for misdemeanor expungements from 5 years to 3 years and the waiting period for felony expungements from 10 years to just 5.18
Now, under HB0212, misdemeanor convictions can be petitioned for expungement after 3 years have passed for adults or 1 year for minors (under age 18) as long as the offense did not involve use of a firearm. Misdemeanors are only eligible for expungement once in Wyoming.
Though there is no particular felony registry and felonies are currently ineligible to be removed from Wyoming criminal records until 5 years have passed and all court ordered restitution has been paid in full. 
Felonies may only be expunged once, unless they all came from one incident. Felony convictions ineligible for expungement include:
Aggravated Assault & Battery on a Corrections Officer
Aggravated Burglary
Arson (1st or 2nd degree)
Bribery
Child Abuse
Disarming an On Duty Police Officer
Drug Induced Homicide
Endangering Children with a Controlled Substance
Escape from Detention
Escape by Violence or Assault While Armed
Hijacking of an Aircraft
Incest
Kidnapping
Manslaughter
Murder
Robbery
Sex Crimes
Sexual Exploitation of Children
Criminal records belonging to juveniles are automatically sealed, but individuals with juvenile criminal records may petition the court to have their records expunged once they have reached the age of 18 (unless convicted of a violent crime), as long as they have not accrued any additional felonies.
Further expungement guidelines regarding juvenile records, misdemeanors, felonies, and arrests without their convictions can be reviewed along with the timelines and requirements for each type of crime or arrest.19
The steps for requesting criminal record expungement in Wyoming are as follows:
Complete a Petition for Expungement yourself or with the help of an attorney
File the Petition for Expungement with the court that heard the original case or where you were convicted, along with a $100 fee for expunging misdemeanors or a $300 fee for a felony expungement (no filing fee is charged for non-conviction arrests)
Serve copies of the petition to the necessary parties

For non-conviction arrest expungements, a copy of the petition should be served on the prosecuting attorney
For misdemeanor and felony conviction expungement, copies of the petition should be served on the victim(s), the prosecuting attorney, and the DCI

If an expungement is granted by the court, an Order for Expungement must be completed by the petitioner and signed by the judge of the relevant court (this is often performed immediately after the hearing, so it is advised to have the Order for Expungement ready and on hand)
After the judge's signature is added to the Order of Expungement, the conviction that was expunged will be removed from public access and the court will send a copy to the DCI notifying them of the expungement.
After the Order has been signed, the record will only be accessible for criminal justice purposes and hidden from public view including employers, licensing agencies, and other unauthorized parties.
How To Find Someone in Wyoming State Facility or Federal Prison
All state prisons in Wyoming are operated by the Wyoming Department of Corrections (WDOC), which offers the WDOC Inmate Locator where inmates under WDOC jurisdiction or supervision can be found.
The publicly accessible online directory of inmates is searchable by entering either the individual's WDOC inmate number or (at least) the first two letters of the inmate's last name. Additional search criteria including first name, age, and gender are available to assist with narrowing down the search but are not required to be filled in.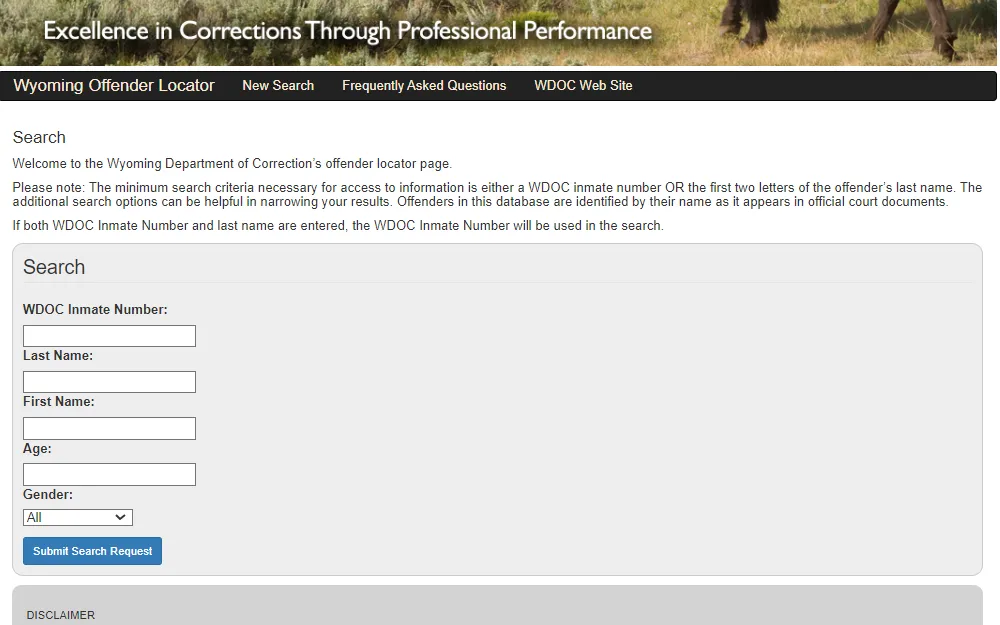 After submitting the search request, users of this service will be able to view all relevant search results and can browse the options for the subject they are searching for. Any offender profile can be selected to view the inmate's:
Age
Correctional Facility or Office of Supervision
Current Sentences
Ethnicity
Eye Color
Gender
Hair Color
Height
Length of Sentence
Offender Status
Parole Eligibility Date
Projected Discharge Date
Sentencing County
Sentence Date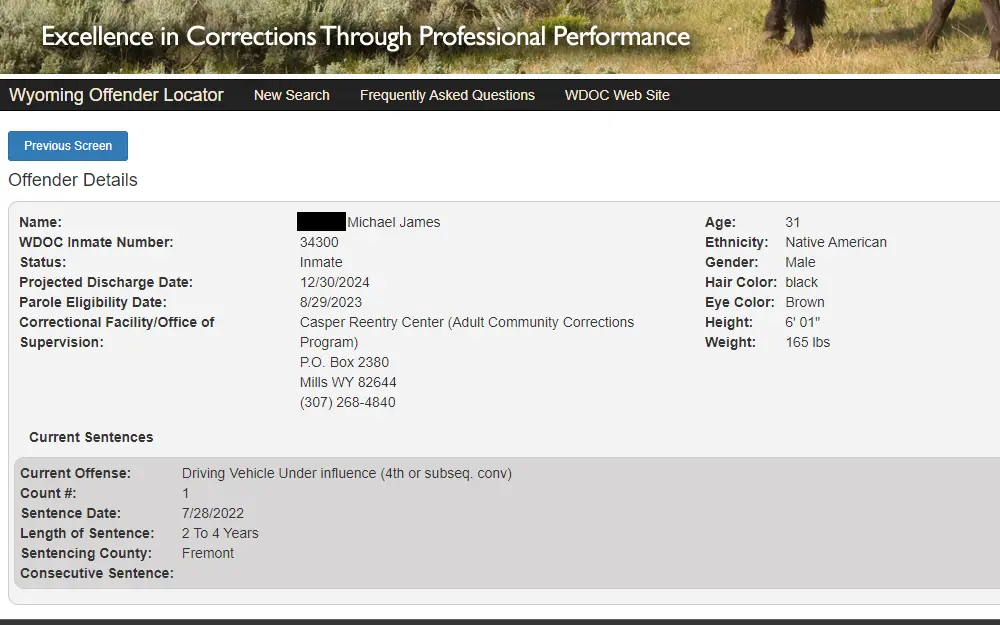 The WDOC oversees five state correctional facilities–four male facilities and one for women–listed below with the contact information for each. WDOC visitation policies vary per facility and can be reviewed by friends or family members who would like to call or visit inmates in state prisons.20
Wyoming Honor Conservation Camp
40 Pippen Road
PO Box 160
Newcastle, WY 82701
Phone: 307-746-4436
Fax: 307-746-9316
Wyoming Honor Farm
40 Honor Farm Road
Riverton, WY 82501
Phone: 307-856-9578
Fax:  307-856-2505
Wyoming Medium Correctional Institution
7076 RD 55F
Torrington, WY 82240
Phone: 307-532-6600
Fax: 307-532-3240
Wyoming State Penitentiary 
2900 S. Higley Road
PO Box 400
Rawlins, WY 82301
Phone:  307-328-1441
Fax:  307-328-7464
Wyoming Women's Center
1000 West Griffith
Lusk, Wyoming 82225
Phone: 307-334-3693
Fax:  307-334-2254
Although there are no federal prisons within the state, Wyoming residents sentenced to federal prisons are transferred to facilities in other states to serve their time. Federal prisons in the U.S. are operated by the Federal Bureau of Prisons (BOP), which offers members of the public access to their BOP Inmate Locator to find information on current federal offenders.
This search tool is free of charge and can be searched by the subject's name or assigned BOP number. Name searches must include the first and last name, with optional additional search criteria including age, race, and sex.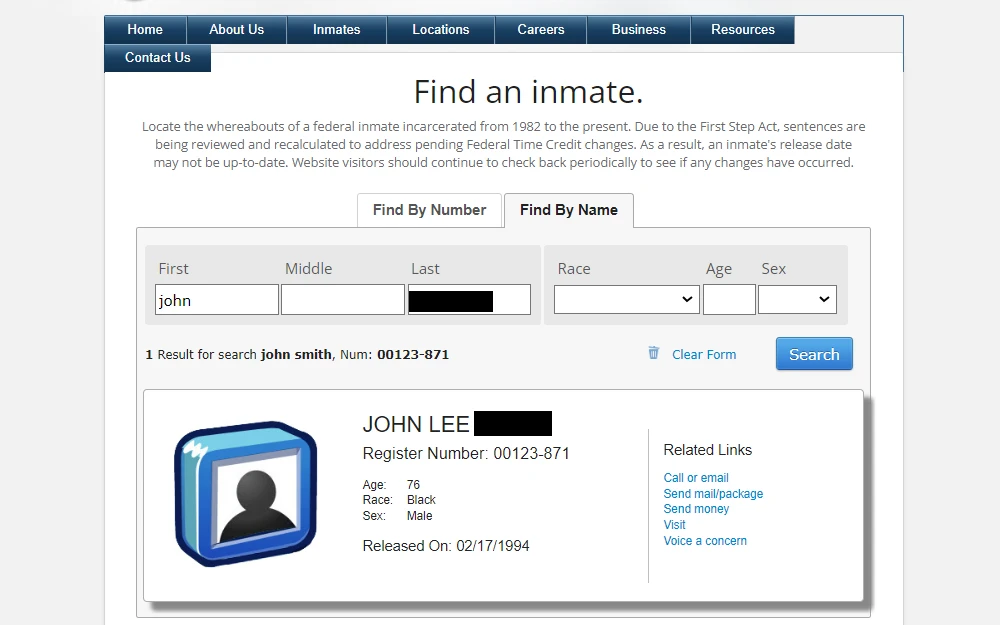 Once a search has been performed, any inmate profile may be viewed for more details on the subject including their full name, BOP register number, age, sex, race, and release date. Interested parties can also click on "call or email", "visit", or any desired links on the inmate profile to learn how to contact them while they are incarcerated.
How To Check or Find Out If Someone Has a Warrant
Wyoming residents curious if they have a warrant out for their arrest (or if someone else does) can search at the local level, as some counties publish an online warrant list viewable by the public.
For example, Natrona County warrants are listed on the county sheriff department's website.21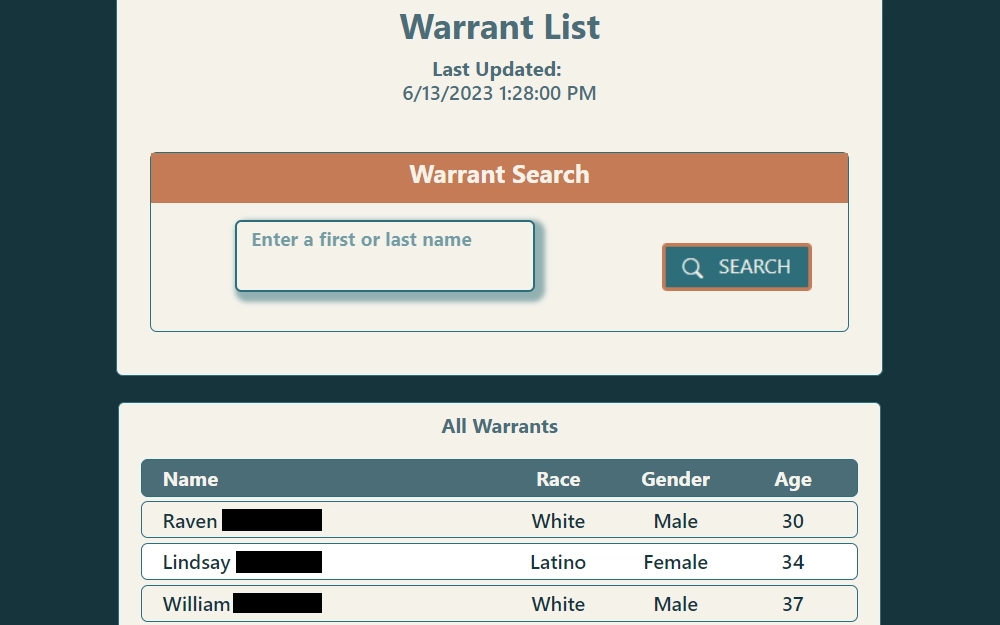 If the county in question does not have an online option for reviewing warrants, interested parties can call instead (all county sheriff phone numbers are listed in the table above).
Overview of Wyoming Background Checks & the Process to Run One
Background checks can be used for a multitude of purposes, most notably being employment, housing, and purchase of firearms. These checks are also used in adoption applications, security clearance checks, and by local and federal government agencies.
Whether for personal or professional reasons, investigating the background of another person is an option for Wyoming residents. However, some differences do exist between background checks performed for personal or professional purposes.
For instance, those done for personal reasons do not require the consent of the subject of the check, but professional background checks can only be done with the subject's knowledge and permission and must be conducted in accordance with all state and federal laws regarding background checks.
Professional background checks can serve to verify an individual's personal information for purposes such as employment and residency, as they can show criminal, educational, and credit histories.
The two primary types of background checks are considered Level 1 and Level 2. Level 1 background checks are typically local or state name-based searches or any such checks that do not require FBI fingerprinting, while Level 2 background checks necessitate an official fingerprinting card to be sent to the FBI for a much more accurate check and are performed on a national scale.
Level 2 checks are far more comprehensive, as they deliver information on the subject's prior addresses, work history, criminal charges and convictions, pending criminal cases, arrests, and jail or prison records.
These types of checks can even include marital status, credit history, and professional certifications. Level 2 background checks are often used for employment involving interaction with children or the elderly, such as for daycares, schools, and nursing homes. Many healthcare and C-level positions require Level 2 fingerprint checks as well.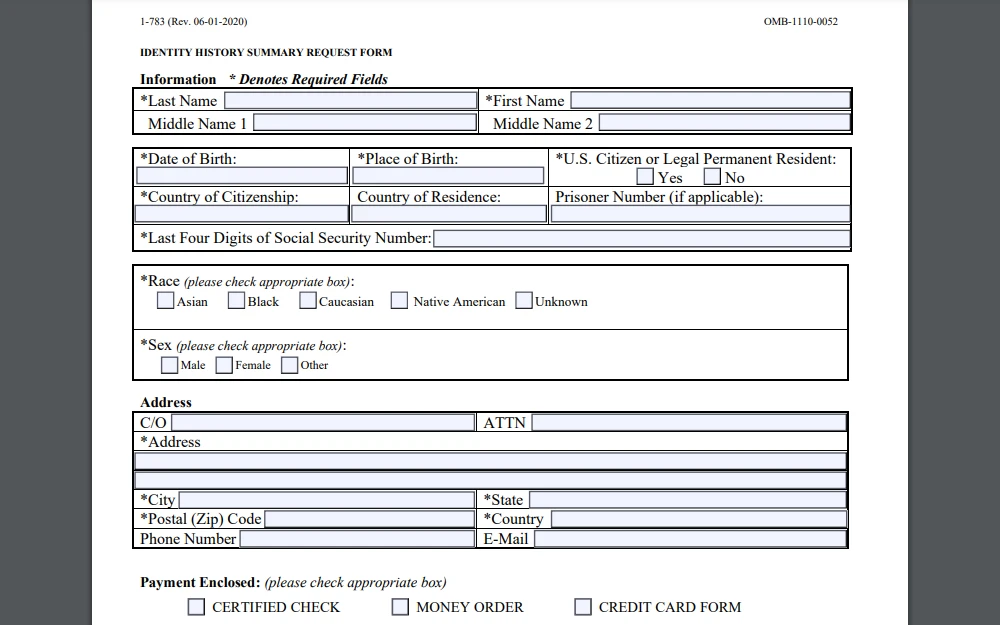 Both Level 1 and Level 2 Wyoming background checks can be obtained through the DCI in a process very similar to getting criminal records; DCI Background Checks are offered to those who want to view criminal history for non-criminal justice purposes at the same fees as criminal history reports.
In Wyoming, Level 1 checks performed by the DCI still require fingerprints but are only searched at the state level so are not considered Level 2 (unless the DCI sends the fingerprint card to the FBI, which can be requested when applying).
Individuals are required to have their fingerprints taken on an official 8 x 8 blue fingerprinting card by any law enforcement agency authorized to do so (for a nominal fee), or by the DCI for a fee of $5.
A "statewide" Level 1 background check actually covers all states in the Western Identification Network (WIN) and costs $15 while a Level 2 FBI background check costs an extra $24 but is only available through certain agencies that have authority to request FBI checks by Wyoming state statutes.
All payments must be made prior to background check processing and fingerprint cards must be fully completed along with the subject's name, date of birth, reason for fingerprinting, and other relevant information included on the top portion of the fingerprint card in blue or black ink.
To request a Level 1 or Level 2 background check via the DCI, applicants should follow these steps:
Have fingerprints taken at the DCI ($5 fee) or any authorized law enforcement agency (fee set by the agency, may vary by location)
Fill out the top of the fingerprint card with personal information in blue or black ink
Add your own address (or that of the employer or agency which the background check results should be sent to) under the "Employer and Address" line of the fingerprint card
Submit the filled out fingerprint card along with the $15 (WIN background check) or $39 (FBI background check) by check or money order made out to the "Office of the Attorney General" to:
Wyoming Division of Criminal Investigation
Attn: ATS
208 S. College Drive
Cheyenne, WY 82002
When background checks are performed for professional reasons, federal background check laws such as the Fair Credit Reporting Act (FCRA) and those enforced by the Equal Employment Opportunity Commission (EEOC) protect against discrimination and must be adhered to.22,23
Although personal background checks do not have to abide by the same rules, the information within cannot be used to stalk, harass, or commit hate crimes against the subject of the report.
Personal background checks, on the other hand, can be done by reviewing Wyoming arrest records, court documents, or by recruiting the assistance of third party services as they have expertise in this area and can quickly search through many record custodians and return information on a subject for a small fee.
How To Search the Wyoming (WY) Sex Offender Registry to Find & Avoid Nearby Predators
Residents of Wyoming can gain insight into risk levels around their city or neighborhood by looking up local sex offenders; there are two primary ways to view a list of sex offenders throughout the state.
First, the Wyoming Sex Offender Registry can be searched, free of charge to the public and updated by the Wyoming Office of the Attorney General's Wyoming Division of Criminal Investigation; this service will show offenders throughout Wyoming, but will not include those who currently have a registered home address in other states.24
Searches can be conducted at the city level or by a particular address or zip code. Offenders can also be found by name, phone number, email, or even social media usernames. Addresses for places of employment can be viewed as well.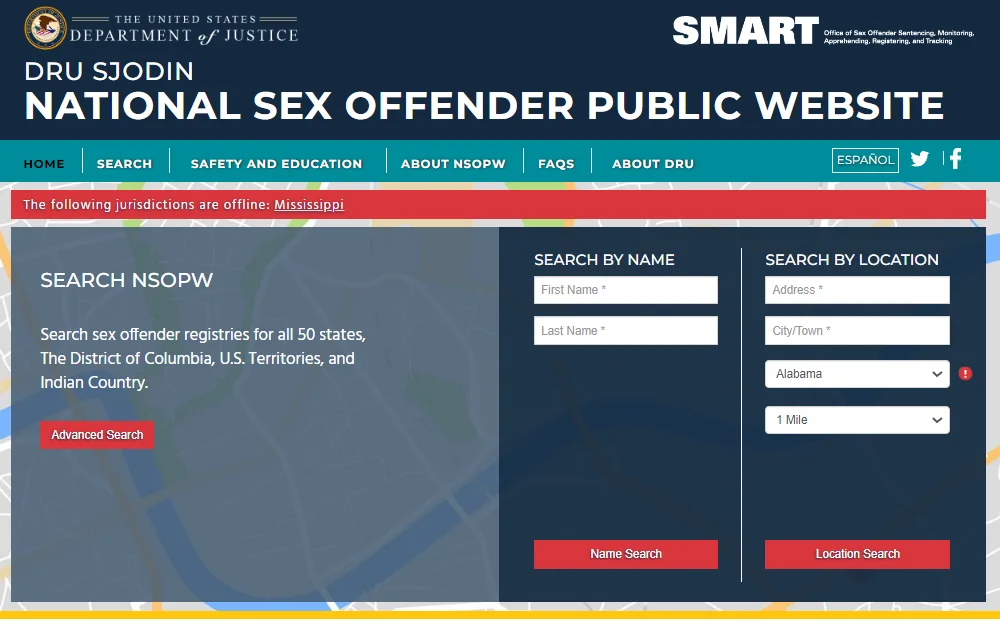 The National Sex Offender Public Website (NSOPW) can also be searched and will return results on a national scale rather than being limited to offenders in the state of Wyoming.25 The NSOPW can be searched by name (both first and last required) or by a certain address with a radius set by the searcher.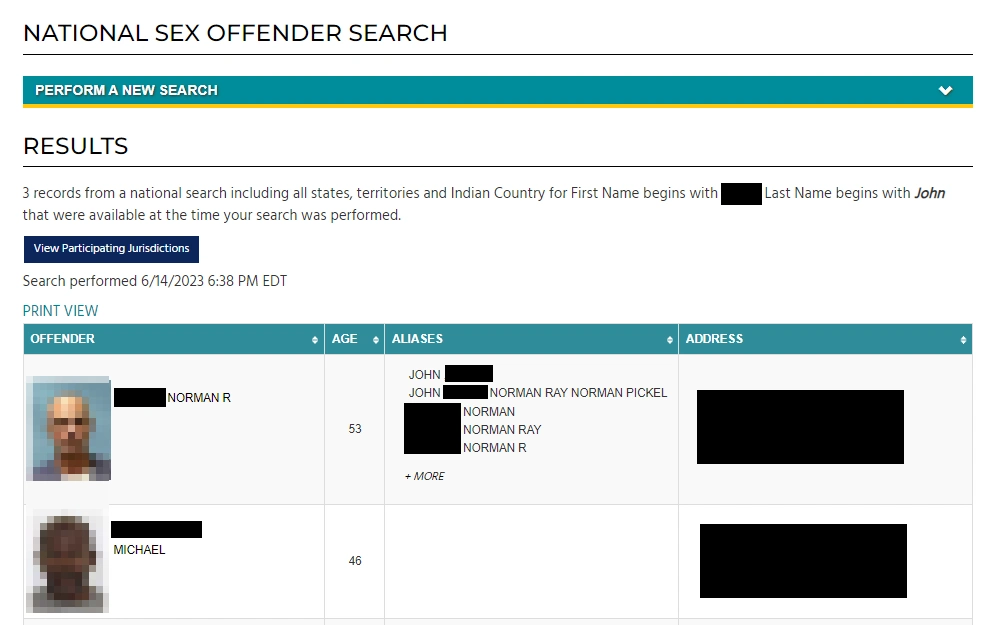 A list of relevant search results will be shown, and any offender can be clicked on for a much more in depth profile (provided by the website of the arresting county or state). Offender profiles on the NSOPW include the following information:
All Known Addresses
Eye Color
Full Name
Hair Type/Color
Known Aliases
Length of Registration
Length of Sentence
Mugshot
Offender Status & Risk Level
Physical Descriptors (Age, Height, Weight)
Physical Identifiers (Tattoos, Scars, etc.)
Registration Number
Release Date
Sexual Offenses (Case Number, Convictions, County)
Warrants
Citizens' Rights Regarding Criminal Records & Arrest Records Under Wyoming Laws
Certain laws serve to protect consumer information when background checks are conducted or arrest records and criminal records are obtained.
Individuals performing personal criminal or arrest record searches do not need to get the subject's permission to view their public records, but background checks done for professional purposes must abide by all local and federal laws.
The Freedom of Information Act (FOIA) ensures access to public records in an accurate and timely manner; this set of federal laws are reflected in the similar Wyoming Public Records Act at the state level.
The Fair Credit Reporting Act (FCRA) was enacted to protect the privacy and establish the validity of information held by consumer reporting agencies and public files.
The Equal Employment Opportunity Commission (EEOC) is tasked with effectuating federal employment laws that protect individuals against workplace discrimination based on factors such as disabilities, race, ethnicity, skin color, gender identity, sex, religion, and more. The EEOC works to ensure fairness in all circumstances of employment, from training and promotions to firing or workplace harassment.
Wyoming arrest records can be obtained through local police departments, sheriff's offices, or jails. Wyoming criminal records–which are far more comprehensive and in depth–can be accessed through the applicable district clerk of court, the Wyoming Division of Criminal Investigation (DCI), background check services, or third party search services–often for a low cost.
1Freedom of Information Act Statute. (2016). foia.gov. Retrieved May 20, 2023, from <https://www.foia.gov/foia-statute.html>
2Wyoming Legislature. (2019, July 1). Wyoming Public Records Act. wyoleg.gov. Retrieved May 20, 2023, from <https://wyoleg.gov/LSOResearch/2019/19IB003.pdf>
3Sweetwater County Sheriff's Office. (2017). Sweetwater County Records. Retrieved May 20, 2023, from <https://www.sweetwatercountywy.gov/departments/sheriff/records.php>
4Big Horn County Jail. (2023). Retrieved May 20, 2023, from <https://www.bighorncountywy.gov/departments/sheriff/detention>
5SECURUS TECHNOLOGIES. (2023). Securus. Retrieved May 20, 2023, from <https://securustech.net/>
6Wyoming Judicial Branch. (2023). Wyoming District Courts. Retrieved May 20, 2023, from <https://www.courts.state.wy.us/district-courts/district-court-locations/>
7DCI. (2023). DCI Background Checks. Retrieved May 20, 2023, from <https://wyomingdci.wyo.gov/criminal-justice-information-services-cjis/criminal-records-unit>
8Wyoming Attorney General's Office. (2013). wyo.gov. Retrieved May 20, 2023, from <https://ag.wyo.gov/contact-us>
9WIN. (2019). Western Identification Network (WIN). Retrieved June 5, 2023, from <https://www.winid.org/public/what-win-is/>
10Federal Bureau of Investigations. (2023). FBI. fbi.gov. Retrieved May 20, 2023, from <https://www.fbi.gov/how-we-can-help-you/more-fbi-services-and-information/identity-history-summary-checks>
11DCI. (2023). Fingerprint Services. wyo.gov. Retrieved May 20, 2023, from <https://wyomingdci.wyo.gov/criminal-justice-information-services-cjis/fingerprint-services>
12Wyoming Department of Corrections. (n.d.). WDOC Inmate Locator. Retrieved May 20, 2023, from <http://wdoc-loc.wyo.gov>
13Wyoming Department of Corrections. (2021). WDOC. wyo.gov. Retrieved May 20, 2023, from <https://corrections.wyo.gov/contact-us>
14Wyoming Board of Parole. (2021). wyo.gov. Retrieved May 20, 2023, from <https://boardofparole.wyo.gov>
15U.S. Probation Office District of Wyoming. (2023). probation and pretrial service office locations. Retrieved May 20, 2023, from <https://www.wyp.uscourts.gov/offices>
16Federal Bureau of Prisons. (2023). BOP inmate locator. bop.gov. Retrieved May 20, 2023, from <https://www.bop.gov/inmateloc/>
17Federal Bureau of Prisons (BOP). (2023). bop.gov. Retrieved May 20, 2023, from <https://www.bop.gov>
18Wyoming State Legislature. (2021). House Bill 0212. Retrieved May 20, 2023, from <https://wyoleg.gov/Legislation/2021/HB0212>
19Wyoming Division of Criminal Investigation. (n.d.). Criminal History FAQs. Retrieved May 20, 2023, from <https://wyomingdci.wyo.gov/criminal-justice-information-services-cjis/criminal-records-unit/criminal-history-faqs>
20WDOC. (2021). WDOC Visitation Policies. Retrieved May 20, 2023, from <https://corrections.wyo.gov/institutional-information/visitation>
21Natrona County Sheriff's Office. (2020, June 1). Natrona County Warrants. Retrieved May 20, 2023, from <https://warrants.natronacounty-wy.gov>
22Federal Trade Commission. (2023, May). Fair Credit Reporting Act (FCRA). Retrieved May 20, 2023, from <https://www.ftc.gov/legal-library/browse/statutes/fair-credit-reporting-act>
23U.S. Equal Employment Opportunity Commission. (2023). EEOC. Retrieved June 5, 2023, from <https://eeoc.custhelp.com/app/answers/list>
24DCI. (2023). Wyoming Sex Offender Registry. Retrieved May 20, 2023, from <https://wyomingdci.wyo.gov/criminal-justice-information-services-cjis/sex-offender-registry>
25NSOPW. (2023). National Sex Offender Public Website. Retrieved May 20, 2023, from <https://www.nsopw.gov>
26Lincoln County in Wyoming. (n.d.). Inmate Roster. Retrieved June 14, 2023, from <https://www.lincolncountywy.gov/government/sheriff/inmate_roster.php>
27Federal Bureau of Investigations. (n.d.). How To Submit A Request. Identity History Summary Checks. Retrieved July 10, 2023, from <https://www.edo.cjis.gov/#/>
28Wyoming Department of Corrections. (n.d.). Offender Details. Offender Locator. Retrieved June 14, 2023, from <http://wdoc-loc.wyo.gov/Home/Detail/?id=34300&dbType=WCIS>
29Federal Bureau of Investigation. (2020, June 1). Form. Identity History Summary Request Form. Retrieved June 14, 2023, from <https://forms.fbi.gov/identity-history-summary-checks-review/q384893984839334.pdf>
30United States Department of Justice. (n.d.). Search Result. National Sex Offender Public Website. Retrieved June 14, 2023, from <https://www.nsopw.gov/en/Search/Results>